The 13 Absolute Best Countries To Meet And Pick Up Gorgeous Women
Travelling is a great thing, that's why most people love doing it. You get to visit new places you've never been to before. You get to experience a different culture. You get to meet gorgeous women who are nothing like those back home.
We're here for that last bit. Because while pretty much every country can say something good about its culture or landscape… Not all can boast about the beauty of their women.
So, let's get down to business and explore the 13 best countries to meet and pick up gorgeous women. And the list will be in no particular order… number 1 is as great as number 13, it's more like a guide of 'must visit' countries. So buckle up and let's begin:
1. Poland
Polish girls are something else I tell you. For one, Poland is kind of diverse. If you're used to seeing only brunettes in places like the Balkans or a majority of blondes up north, in Poland you'll see everything. There are even the occasional redheads.
But hair color doesn't make a woman pretty… What Poland offers is much more than diversity in hair colors, it offers stunning young women, especially if you're going there during the university period (Not many people stay for the summer) which I recommend!
All in all, Poland is an incredible country mostly because of its women's potential. So Poland is for sure one of the best countries for meeting women. Definitely pay it a visit.
2. France
Continuing with the European theme, next up is France. And I'm sure nobody is surprised… After all, French people are very well known for their romance. Romance and kinky nature that is.
Jokes aside, France is another one of the absolute best countries to meet women, and here's why:
Many French people say that Paris and the rest of France are like two different places altogether. And you can certainly see the differences. Parisians are incredibly reserved and sophisticated. Outside of Paris though, people are wild and kind of crazy. So there really is something for everyone in France.
Whether you're looking for a lady on the streets and an animal in the sheets… or an animal everywhere… France is the place for you.
3. Italy
Italian women are, simply put, incredible. They are gorgeous, stylish, and looking for quality men (they have a man problem in Italy).
What I mean is that most Italian girls are tired of Italian men because they are mostly boring and childish. You'll see a ton of stylish Italian men, but somehow their women desire something more.
Don't get me wrong, for an Italian girl looking great is something you must do. You can't go around in flip flops and a t-shirt. Do yourself a favor and dress up. Other than that, just don't be a mama's boy and you'll go far (or so I've heard… haven't had this problem myself, haha).
In any case, if you're looking for stylish women who know how to dress to impress (and undress to impress) Italy is a must visit. It definitely earns its spot on the list of best countries for meeting women!
4. Germany
Ahh Blondes and Beer, Beer and Blondes… Ahh Germany… Commonly known for its hard to learn, pronounce, and harsh-sounding language, Germany hosts a ton of gorgeous women. Mostly blonde, but still you can find pretty much everything there since lots of tourists go to Germany.
What's more, German people are some of the kindest folks out there. I know, I know… German sounds like yelling your throat out in rage, but trust me… That's NOT how Germans speak. They are very polite and genuine.
That being said… Don't even think about drinking with a German girl… What I mean by that, don't put your manly ego on the line… She'll definitely be able to handle much more than you. Remember to be light-hearted and everything will go smoothly.
So, if you're looking for primarily blondes (or you're a beer aficionado) Germany is the place for you. And it's good that Germany just happens to be among the best countries for meeting women.
5. The Netherlands
 Speaking of Germany, they have many great neighbors but… Dutch girls stand out… A LOT!
Here are just some of the positives that make The Netherlands another one of the best countries to meet women in:
The Netherlands is a small place, filled with stunning girls, high people, and a ton of action. I mean, because you can literally go from one end to the other in about 2 hours give or take… you have pretty much the whole country to play with. That's not possible in other, bigger countries and it's a HUGE plus.
For one, online dating is incredible because everyone is nearby so you have a TON of choices. And what incredibly gorgeous choices too… Damn, I just love The Netherlands… I have a few friends who study and work there and I visit them on every occasion.
And if you enjoy a more peaceful and laid back lifestyle… That's the place for you. Definitely check Dutch girls out, I promise that you won't regret it.
6. Ukraine
Seriosuly… Ukrainian women are some of the most gorgeous in the whole world! Alongside Russian girls (I'll get to that… Spoiler Alert!) you'll find insane beauties in Ukraine.
Not only that, they are very feminine, kind, loving… Pretty much wife material through and through. It's great.
Their culture is a bit heavily on the monogamy side, so one night stands aren't that prominent… But they aren't a rarity at all either. But that's not a bad thing in any way shape or form… If you're looking for something more serious (and you're willing to invest the time and effort) Ukrainian women are definitely worth it, I approve!
Come to think of it, even if you're not, I'm still suggesting you visit Ukraine since it's one of the best countries for meeting women.
7. Russia
Speaking of Ukraine… Russia … Pretty much the exact same thing except bigger and with a more booming economy.
The main difference is that in Ukraine girls will be gorgeous but shy, whereas in Russia, they'll be gorgeous and they'll know it… and they'll use it as a weapon to get a leverage over you. That can be both a good or a bad thing.
For example, if you're rich, she can use you for money… But if you win her truly, she'll love you unconditionally (like Ukrainian girls). In other words, if you're great with women you'll find yourself enjoying the game in Russia A LOT… Because it's going to be interesting, back and forth, like some sort of exhilarating ritual that both of you perform… And what comes after is totally worth it.
So, check Russia out since it's for sure at the top spots for the best countries to meet women in!
8. Lithuania
If you're more of a day game guy rather than night game, you'll probably find Lithuania incredible. It's weird how not many people talk about Lithuania, yet it houses incredible beauties.
And let me tell you something about Lithuania and why it's one of the best countries to meet women:
Maybe it's because of its rather poor night scene. But setting that aside… Going out during the day will score you a TON more that in countries where the night scene is great… That's the thing with Lithuania, you need to be active during the day. Hit up parks, cafes, stores… Anything. You'll come across gorgeous women and if you just go up to them and approach them, you're already miles above the average guy.
That's not all… Online dating in Lithuania is similar to that of The Netherlands… Lithuanian girls are incredible and you'll find it very easy to get a couple of matches which can turn into dates which can turn into something more.
Give Lithuania a chance, you'll absolutely love it.
9. The Czech Republic
The land where pretty much all the porn comes from, right? Not quite…
You've watched porn, I've watched porn… we've all done it, and we've all noticed that a ton of it is featuring Czech girls… What gives?
Well, prostitution is a problem there, but that's one of the reasons why this country is on the list … for not so obvious reasons… let me explain:
See, because of that 'porn' stigma surrounding the Czech Republic, the girls there are sick and tired of dumb sex tourists who constantly whistle towards them. That's why, when a decent human being comes their way, they're incredibly impressed. And I'm assuming you're not a sex-crazed maniac, reading witty articles on the internet (you'd probably be watching porn all day if you were). So you're clearing those criteria already.
On top of that, Czech girls are incredibly beautiful… Those two things make for a hell of a place which you should be looking to visit (again… only if you're not a sex-crazed maniac). Jokes aside though, The Czech Republic is among the best countries for meeting women for a reason.
10. Thailand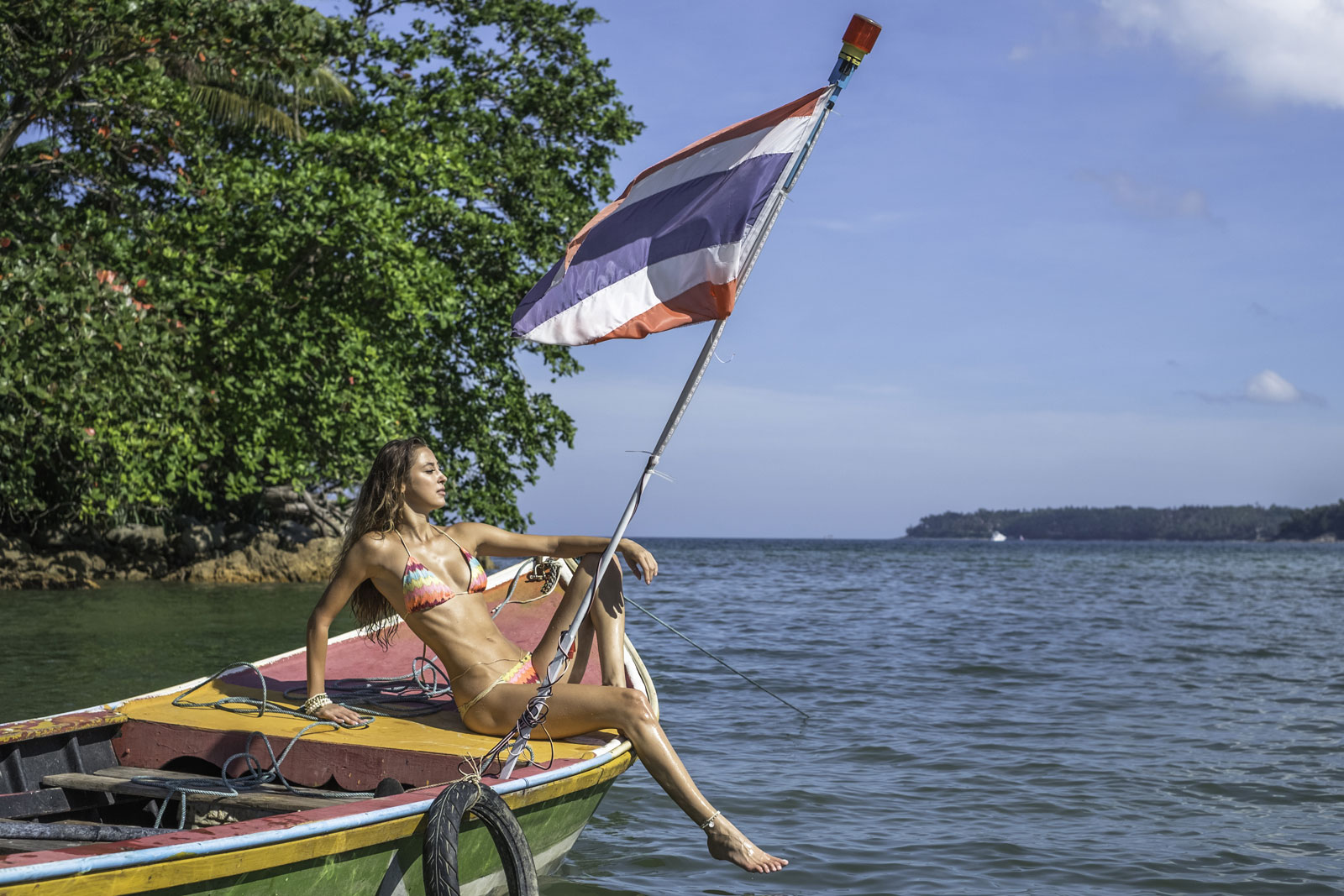 Speaking of sex… Thailand… The place where tourists go for that same reason… and get away with it… and with a ton of sex (and maybe STDs, but we're smarter than that obviously).
The trick to Thailand is to understand in which part of the country you are:
Are you in Pattaya – be a fuckboy… act like a sex tourist and you're going to have a huge success.
Are you in Bangkok or some other major city? – act the opposite… Be interested in the culture and the country and you'll stand miles ahead from the other tourists. And don't worry about Thai men, Thai women are dying for westerners, it's incredibly easy.
The only things you need to be aware of is prostitutes (unless you're into that) and ladyboys (unless you're into that). The prostitutes you deal with easily… just be suspicious if it's too easy. The ladyboys… I'd just ask… Nothing bad can come from it because they won't really get offended. They're looking to have fun with someone who enjoys them anyways, so it's better for both of you if you don't enjoy it… Just ask politely and don't make a fuss about it.
In any case… Thailand is simply one of the easiest and best places to pick up and meet women in. If you adore Asian girls, definitely check Thai women out.
11. Australia
First things first … come here during the winter period (I'm talking winter in December, January, etc)… Because you'll go from Summer in your country to Summer again, it's amazing.
Apart from that (which is obviously a great sell, I freaking love Summer) you'll find some of the most down to Earth girls here in Australia. Cute, gorgeous, sexy, and laid-back… Sign me the hell up.
And the culture is simply incredible. The whole place is very exotic… A great travelling destination without the brilliant women… They are just the cherry on top.
And what a delicious cherry they are… Ahh. A must visit in my opinion, definitely give Australia a chance in your next travel plans… I mean, it's among the best countries for meeting women for a reason.
12. America
Now, you might already be American and live here. Great, you can skip this if you like (or don't America is a huge place, you can travel to a different State or something).
Anyways, there's a reason why everybody is talking about America… And here's why it's one of the best countries to meet women:
There's literally everything in America, and I mean everything. You'll find a huge diversity in women here. Blondes, brunettes, redheads, pink-heads whatever… White, Black, Asian, Mexican, you name it. You won't be disappointed in the diversity for sure.
And American women are quite literally some of the best. I know the stereotype is the bitchy feminist, but that's not the norm… Most girls are quite normal and down to Earth believe it or not (and some men prefer bitchy feminists, so that's that).
All in all, America is probably on your 'must visit' list already, but hopefully, it's gotten one or two places up now.
13. Brazil, Columbia, and pretty much all of Latin America
Latin America is just… exotic… Latinas are just something else entirely. Lovely, loyal, and hot as hell, these girls are simply incredible. You'll never be bored of a Latina, I guarantee it.
That being said, they are very high maintenance. You'll need to be the absolute alpha male with them. And if you are, you'll be rewarded appropriately.
My best advice is to be aggressive. If she likes you she'll give you a sign, if you don't act quickly, you lose her forever. Just like that. SO ACT… Go up to her and start with the flirting from the first sentence… Don't ever beat around the bush.
Seriously though… Latin America is hot and spicy (I'm not talking about the weather and food). You need to be quick on your feet and act like a manly man Mr.Alpha.
So, if you enjoy a passionate girl who'll make your life a blissful hell… I cannot recommend Latin America more. Brazil and Columbia are up there for sure, go there first. Those (and all of Latin America really) surely earn a spot in the best countries to meet women in.
And that's it gentlemen. That's the end of our list. I hope you've picked up some (or all) of these destinations and can't wait to just grab a plane ticket and rocket your way to these amazing countries in order to meet some stunning women.
In any case, good luck with your plans.